VoIP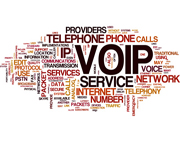 While the first Voice over Internet Protocol (VoIP) systems were fielded by early adopters in the 1990s, broad enterprise acceptance of and the vendor transition to VoIP applications did not begin until the early 2000s. VoIP is the practice of voice as an application on Internet Protocol networks. Most vendors have abandoned early time-division multiplexing (TDM) system architectures in favor of more feature-rich, flexible, and cost-effective VoIP systems. The word "convergence" is often heard in conjunction with VoIP. This refers to the convergence of TDM and IP networks into a single, robust platform designed to host all enterprise applications.
Initially, many misconceptions were present in the marketplace about VoIP being free and some of these misconceptions are still utilized by vendors today. Some vendors have taken a market position to utilize VoIP to bypass the regulated voice industry and provide ultra low-cost domestic and international voice services.
The Syber Group has extensive experience with VoIP network design and installation. In early 2003 the firm's founders deployed numerous premise based VoIP systems for sizeable firms throughout Chicagoland and the Midwest. VoIP has developed extensively since then and The Syber Group has increased its industry expertise every step of the way, helping our clients utilize VoIP and implement cost reduction strategies as part of their telecommunications management. At the same time we are assisting our clients achieve higher growth than they would have otherwise, by increasing productivity, operating efficiencies and bottom line revenues.
Hosted VoIP replaces traditional analog landlines and PRIs. Calls, faxes, voice mail and internet are combined onto one or multiple internet circuits.  These systems are housed at the provider's data center so minimal equipment is installed at customer location(s). Hosted VoIP phone service delivers the functions and features of an expensive and sophisticated PBX phone system, but at the fraction of the cost.
Hosted VoIP Advantages:
Reduce long distance, local, international and toll charges – save up to 80% without sacrificing voice quality and reliability.
Scalable voice solution – cut waste, cut costs! Make moves, adds and changes as needed.
Geographic mobility and unification – integrate multi-location offices, remote employees, and business travelers under one calling group.
Telephone number portability – keep your existing numbers or get new ones.
Have complete control of features and functionality via a self-managed web portal.
Who Benefits?  Large enterprises and small businesses alike can take advantage of Hosted VoIP's countless benefits. Even the smallest companies can have big business presence and functionality with little to no capital investment. Hosted VoIP is perfect for customers looking to replace, update or install a new PBX or Centrex system.
Premise based VoIP – Premise based VoIP is very similar to hosted VoIP service with some key differences.  All equipment is housed at your business location(s) rather than the provider's data center.  Organizations that benefit most by premise based VoIP solutions are larger enterprises that employ in house IT staff.  They likely require specialized features that may not be available on hosted VoIP offerings.  Typically the client prefers they have complete control of all their equipment.
Some of the benefits you may see from a premises based VoIP solution include:
Predictable acquisition cost
Direct control over purchase, installation and operation
Development or maintenance of in house expertise
Highly specialized applications may be more easily supported

SIP Trunks (Session Initiated Protocol)
For enterprises wanting to make full use of their premise based VoIP IP-PBXs and not only communicate over IP within the enterprise, but also outside their locations, SIP trunks (call paths) are provided to connect to the traditional PSTN network. Unlike in traditional telephony, where bundles of physical wires were once delivered from the service provider to a business, SIP trunks allow a company to replace these traditional fixed PSTN lines with connectivity via a SIP trunking service provider over the Internet.
SIP trunks can offer significant cost savings for enterprises, eliminating the need for local PSTN gateways, costly ISDN BRIs (Basic Rate Interfaces) or PRIs (Primary Rate Interfaces).
There are many required VoIP technology design elements to consider and act upon for a successful and seamless deployment, especially in a business environment where telephone calls are mission critical.  This process can be very daunting and frustrating.  Rely on the experts at The Syber Group to guide you through this oftentimes very confusing process.
Call 855-568-TSTG (8784) TODAY or email info@TheSyberGroup.com for a consultation!