Network Design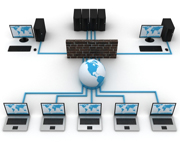 The Syber Group has successfully completed numerous Network Design and Network Implementation projects for a wide selection of companies spanning all industry types throughout Chicagoland.
We are network design experts who offer a highly specialized set of technical as well as business skills to ensure the successful implementation of even the most complex infrastructures.  We can provide you with an in-depth network design diagram that details your entire network's topology.  Additionally, our Network Design Architects will take into consideration your unique technical needs and requirements and incorporate them into the finished product.
Whether you are moving offices or expanding in your current space, our Engineers can run the cable, connect your users to the switches and routers and configure all devices to ensure maximum performance in your environment while minimizing any down-time.
Network Optimization
Where are you on the roadmap to a more efficient network? We recommend the following steps to implement a corporate LAN/WAN optimization project:
LAN Optimization
Are you adding voice traffic to your LAN?  Are you implementing QoS-based (Quality of Service) VLANs for voice or video?  Are you trading-up to the new Cisco Nexus family of switches to your core infrastructure?  The Syber Group Engineers will design the best LAN strategy for your requirements.
Wireless LAN Optimization
The Syber Group, along with its technology partners has the skills and tools to implement a secure, accessible wireless LAN in your facility.
WAN Optimization
How much bandwidth do you need at your branches?  What is the best way to connect remote workers?  The Syber Group Network Engineers can assess current bandwidth patterns and make recommendations for improvements.
Voice and Video Readiness
As more and more companies run converged networks, bandwidth demands have increased tremendously.  The Syber Group can determine the best ways to maximize the bandwidth you have, change your network topology, or make recommendations for additional bandwidth on high-traffic routes.
Roadmap to a Network Assessment
The Syber Group is proud of its engineers.  Here are a few of the Network Assessments that we can provide to your organization:
Determine business and technical objectives

Are you optimizing for cost containment? Faster application performance? New network traffic loads such as voice or video? To determine where your bandwidth is over-subscribed? To capture non-standard configurations? Once we understand your concerns and goals, we are ready to get started.

Baseline Network Documentation

The Syber Group network engineers will provide thorough documentation listing all current devices, configurations, IP addressing, network elements, and software versions. You will receive a diagram of the current network topology.
o    The Syber Group network engineers will present a summary document, outlining any identified risks (for example, security lapses or single-points-of-failure), upgrade requirements (for example, End-of-Life equipment), and will prioritize a network optimization plan to reach your business objectives (such as adding QoS networking).
Upgrades/Remediation

The Syber Group network engineers are available for risk mitigation or networking upgrades based on your prioritized requirements.
Call us today at 855-568-TSTG (8784) or email info@TheSyberGroup.com for a free consultation.