IT Outsourcing
I.T. Outsourcing Chicagoland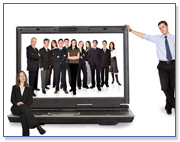 Information Technology Outsourcing is becoming more and more popular especially intoday's economy. I.T. Outsourcing will help your Chicagoland business lower costs on I.T and maximize the support you get for your money. Having a team of technicians with a variety of skills is a lot more efficient than having a single tech in your office working full time who may have a skill set limited to one specific technical area. This is where I.T. Outsourcing makes sense.
All of our IT outsourcing solutions are custom designed to help you maintain a competitive advantage over your peers and even compete with larger firms by bringing you the very same array of IT service many of them utilize at a much lower cost. With our IT outsourcing solutions you can be confident in a constantly changing environment, we will keep you nimble, whether you find yourself suddenly needing one new resource or one hundred, The Syber Group will quickly and efficiently take care of your I.T. Outsourcing needs.
Let's look at this by example.
Let's says you employ an I.T engineer for $70,000 a year. With taxes and benefits, the total cost of your employee will probably be around $80k at the end of the year. When you outsource, you do not have to deal with the costs of benefits and additional taxes associated with employing your I.T. Engineer. The costs involved in maintaining your network are usually more cost efficient than employing an I.T. Engineer full time.
When you outsource your I.T. department you are instead employing a company with a team engineers to perform the same tasks as your IT employee would. This not only gives you access to a larger workforce to support your network, but also to a more experienced I.T. staff. A properly configured network usually means less downtime and problems for your end users, which at the end of the day means less costs involved with supporting your network.
The Syber Group specializes in I.T. Outsourcing and can either replace or assist your I.T. Department in your business and help you cut costs of your I.T. spending. The Syber Group can either prepare your business a customized service plan to support your network or can place a technician in your office full time to support your office onsite. The technician onsite will have full access to The Syber Group's resourced and escalation procedures to help troubleshoot more complex issues in your network. For more information about I.T. Outsourcing, please contact us at 312.568.7190 and we would be glad to give you more details about our programs.
I.T. Outsourcing Service Area of Chicago.
We offer information technology outsourcing services to all areas of Illinois and western Indiana; however we primarily focus on Chicagoland. Call us today for a free consultation and see how you can benefit for I.T. Outsourcing. Contact us at 855-568-TSTG (8784) or email info@TheSyberGroup.com.