Cloud Computing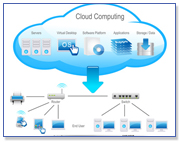 There's a lot of recent chatter and everyone seems to be implementing it. Private clouds, hybrid clouds, public clouds, software-as-a-service, platform-as-a-service, infrastructure-as-a-service, virtualization… All of these can be considered part of cloud computing. That's why cloud computing can be a bit confusing for most people.

But all of these technologies and computing environments do have one thing that is universal. All are designed so that applications or services request access not from a specific resource but rather from a pool of resources, often via a third party. Cloud computing can provide benefits such as lower costs, faster time to deployment and elastic provisioning of resources. But while the benefits can be great, cloud computing also poses new IT management challenges. The lack of visibility between IT and the organization delivering resources, as well as the dynamic movement of applications and data across these resources makes it near impossible to identify where problems lie when they occur.

Self-governing Networks performance tools simplify the management of cloud computing applications and infrastructure. Taking a path based view of performance, they provide complete visibility from source to destination, even through third party networks. When performance issues arise, the tools pinpoint the exact location of the problem whether it's in your network, your carrier's network or even through to a SaaS provider's virtual machine. Their hop by hop analysis along with remediation information eliminates the finger pointing that too often occurs when there is a problem in complex, cloud based environments.
Self-governing Networks will help you to
| | |
| --- | --- |
| | Assess the end-to-end network readiness for new cloud based applications and services prior to deployment to reduce rollout risks |
| | Monitor network performance through the cloud to your cloud service provider |
| | Troubleshoot problems up to 70% faster with hop by hop analysis through cloud networks |
| | Understand and report on the impact cloud computing has on your business |
Capabilities Include:
| | |
| --- | --- |
| | Visibility from within a virtual machine through the cloud to any client |
| | Precise identification problems anywhere along the application path |
| | Intuitive SLA compliance and network performance reports |
One of the main advantages of Cloud Computing is it allows you to dynamically scale your business, without incurring exponentially increasing infrastructure and overhead. You can have confidence that as your business grows; your underlying technology will grow with it, seamlessly.
The Cloud Computing architecture is "Horizontally Scalable". Essentially, this means it is very easy to add increased capacity (when you have a large increase of employees or clients who need to access computing resources) with very little inconvenience to your work flow or additional cost.
Besides the savings on brand new servers to replace old ones, and increased software licensing costs, there are also hidden savings. With cloud computing, the way in which your employees work does not change when new "nodes" are added. So training costs for new business processes and installation time costs are eliminated.
| | |
| --- | --- |
| | Reduced licensing costs |
| | Improved security due to centralization of data |
| | Lower electrical, maintenance and facility costs |
| | Offloaded responsibility from internal IT department to cloud computing services provider |
| | Cost savings with hosted computing services for companies with low graphic requirements |
| | Access to your applications anytime and from anywhere in the world with an internet connection |

Call us today at 855-568-TSTG (8784) or email info@TheSyberGroup.com for a free consultation.