Technology Services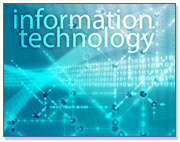 The Syber Group's Technology Solutions ensure optimal and continual operation of your entire Information Technology infrastructure that your company is highly dependent on to run mission critical operations.
Our broad range of Technology Solutions assists in guarding your often sizable investment in technology and ensures the constant operation and optimization of all critical components within your organization.
We can ensure predictive IT results, guaranteed server stability and service request response times for your Chicagoland or Midwest based company.
By offering our services on a fixed monthly fee basis, our value-based offerings can reduce your current monthly Information Technology (IT) expenditures yet give your organization increased levels of system stability and performance.
In addition, our services can frequently enhance your employee's satisfaction with their daily use and interaction with technology.
We currently provide our services to a diverse number of commercial firms to include financial, healthcare, manufacturing, and logistics just to name a few.
Since 2008, we have provided our business IT support services to organizations throughout the Chicagoland area and the Midwest.
Call us today at 855-568-TSTG (8784) or email info@TheSyberGroup.com for a free consultation.