Worldwide PC  shipments dropped 8.3 percent in the fourth quarter  which was the worst sales have been since  2008,, beancounters at Gartner Group said.
Qualcomm has posted its smallest quarterly revenue increase since 2010, which saw its share price plummeting five percent in after hours trading.
Qualcomm reported its second quarter earnings on Wednesday for the three months to 30 March, and its revenue rose to $6.37bn during the period, up four percent from a year ago, with net profit up five percent to $1.97bn.
However, that was the smallest year over year percentage increase since the June quarter of 2010, when revenue declined by two percent, and was far lower than the quarterly growth rates of over 20 percent that Qualcomm investors have seen previously.
"We delivered another solid quarter, driven by demand for our leading multimode 3G/LTE chipset solutions and record licensing revenues," said Qualcomm CEO Steve Mollenkopf in the earnings report, not mentioning that earnings reflected a much lower increase than seen in recent quarters.
"Looking forward, we are pleased to be raising our earnings per share guidance for the fiscal year. We continue to see increasing demand for our industry-leading chipsets and strong growth in calendar year 2014 of 3G/4G smartphones around the world."
Qualcomm also forecast sales of between $6.2bn and $6.8bn for the April to June quarter, with the low end of that estimate representing a decline of one percent from a year ago.
It's probable that while growing smartphone penetration in emerging markets is helping to keep the firm's unit sales high, it's also having an negative effect on Qualcomm's average selling price (ASP) levels of mobile chipsets and devices.
Following Qualcomm's earnings report, analysts said that the dip in revenue was attributable to a decline in sales in China as the country's biggest network, China Mobile, prepares to launch a faster network with 4G, or LTE, technology, and customers are anticipating the launch before buying new smartphones.
Qualcomm now expects to make a profit of between $5 and $5.25 per share, five cents above its earlier projection, the firm said.
Popular hardware identification tool CPU-Z has hit the Google Play Store. Like the PC version, the apps is completely free and it offers tons of information about your device.
It identified the SoC on board, along with the architecture and clock speed for each core. It also figures out the exact device brand, amount of RAM, storage, battery level, status and temperature. It can tap into the device's sensor array, which is more of a gimmick than anything useful.
It's worth noting that it is still in beta, so there might be some kinks to work out. If you're eager to give it a go, you can find it here. https://play.google.com/store/apps/details?id=com.cpuid.cpu_z.
Is Apple proving how clueless it is about security by backing a method of replacing passwords with fingerprint readers?
Just days after a scandal where a South American hospital was staffed by phantom doctors who used silicon fingers of their colleagues to convince administrators' finger print readers that they were working, Apple has decided that they are the perfect form of security.
Word on the street is that Apple is said to be planning to introduce an iPhone that can be unlocked by the owner's fingerprint. Speculation about Apple's plans for fingerprint recognition began last summer when the iPhone maker bought bio-metric security firm AuthenTec for $335 million.
It is believed that the iPhone 5S will have a fingerprint chip under the Home button, to "improve security and usability." Meanwhile in an engineering journal, two Google security experts outlined plans for an ID ring or smartphone chip that could replace online passwords, which is a lot sexier than fingerprint scanning.
Kingston Technology is claiming the world's highest capacity USB 3.0 flash drive with the one terabyte (1TB) Datatraveler HyperX Predator 3.0.
Announced by the company's Kingston Digital Europe affiliate, the Datatraveler HyperX Predator 3.0 is shipping now in a 512GB model, with the 1TB capacity set to be available later in the first quarter.
The new drive is also slated as the fastest USB 3.0 flash drive in the Kingston storage line, with read speeds of up to 240MB/s and write speeds of 160MB/s, according to the firm.
"The large capacity and fast USB 3.0 transfer speeds allow users to save time as they can access, edit and transfer applications or files such as HD movies directly from the drive without any performance lag," said Ann Keefe, Kingston regional director for the UK and Ireland.
Featuring a casing made of zinc alloy for shock resistance and high-end design, the Datatraveler HyperX Predator 3.0 also comes with a custom Kingston key ring and a HyperX valet keychain.
The new drive is fully certified for Superspeed USB 3.0 operation, while keeping backwards compatibility with USB 2.0 to allow it to be used with older computer hardware.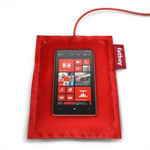 Toyota is taking the smartphone boom quite seriously and the car-maker hopes to offer the first wireless charging systems in select models as early as next year.
Toyota's wireless system will be compatible with the Qi standard and it will be introduced in the new Avalon sedan next year. Of course, it will be optional and it will be part of Toyota's $1,950 "technology package" which includes other geeky goodies as well.
According to the BBC, Chrysler is also planning to offer a similar system in the Dodge Dart. Other car-makers will no doubt offer wireless charging functionality sooner rather than later.
The number of Qi compatible phones is limited for the time being. Just 34 phones support it, including the Lumia 920, Nexus 4 and HTC Windows Phone 8X. However, some very popular devices like Apple's iPhone and Sammy's Galaxy S series phones don't support wireless charging just yet.
Qualcomm is set to make a $120m investment in troubled Japanese display maker Sharp.
Rumours had been floating around that Qualcomm was looking to make an investment in Sharp, and the display maker has confirmed the investment. Qualcomm initially will invest $60m in Sharp through its Pixtronix subsidiary by the end of 2012 to help develop Sharp's IGZO display technology.
Qualcomm will make a further $60m investment in Sharp should the initial work on its IGZO displays seem promising. Should Qualcomm complete the $120m investment in Sharp, that will make it the single largest shareholder with around five percent of the firm, primarily due to the fact that Sharp's share price has fallen by almost 75 percent in 2012.
While Sharp said it will work with Qualcomm on further developing its display technology, the two firms will also look at working together on developing chip fabrication technologies.
It had been reported that Intel and Dell were also sniffing around Sharp, while Hon Hai is known to be looking to make a stake in the firm, though its demand for a seat on Sharp's board is likely the main sticking point in negotiations. Sharp has warned that its future is in doubt if it cannot secure investment to repay large debts it amassed as part of its LCD manufacturing push back in 2006 and 2007.
Microsoft's Surface for Windows RT tablet will sell for $199 when it ships on Oct. 26, according to an unidentified source in an Engadget story.
At that price, Microsoft would surely be selling below its costs, analysts said. However, Microsoft could take the loss in hopes of making up revenues on apps and media sales for the device.
Also, Microsoft would be trying to make an impact against the Nexus 7 and Kindle Fire sold at the same $199 price, since Microsoft arrived arrived late to the tablet game.
Engadget said it learned the price from an inside source at Microsoft's recent Tech Ready15 conference, where launch details for Surface were announced.
Microsoft said the Surface tablet would be priced in-line with Windows RT tablets from other makers such as Asus, which hasn't announced a price. However, given the components in the Surface and other Windows RT tablets, analysts have suggested it could cost more than $600.
Ford dealers now have an iPad app they can access to quickly check available inventory and offer product information to help out customers in their showrooms.
Also included in the Showcase app is video content on car features that sales personnel can show to customers on an iPad as they shop at a dealership.
Michelle Moody, cross vehicle marketing manager for Ford, said the company started considering the app in early 2011 to improve the car-buying experience.
The app builds on the Ford.com website, which allows for configuring and comparing vehicles. Sales personnel can use the iPad app to determine what features a customer wants and then immediately check inventory to find a vehicle in stock that most closely matches those needs, Ford said in a statement.
Videos on the app can explain a variety of features such as Sync and active parking assistance, along with other features such as a lane-keeping system that Ford said might not be easy to showcase during a test drive.
Research In Motion on Tuesday launched software that will allow its large "enterprise" customers to manage Apple and other rival devices through the same servers as they use for the BlackBerry smartphone and Playbook tablet.
The new Mobile Fusion software, first announced in November, is an acknowledgement of sorts by RIM of a growing preference by many users inside big corporations and government to access professional communications over their personal devices, often the Apple iPhone or iPad, or devices running Google's Android.
RIM, which long dominated the so-called enterprise market, has watched the BlackBerry's market share steadily erode in recent years. Unable to arrest the trend, the company now aims to generate a fresh revenue stream from it. Mobile Fusion will cost $99 per user to license and $4 per user a month, with discounts available for bulk orders.
In a second announcement on Tuesday that highlights RIM's eroding market position, it said its PlayBook tablet now boasts 15,000 applications – still just a tiny fraction of the number available on the iPad. One of the biggest complaints about RIM's products is the dearth of content and applications.
A recent survey from Appcelerator and IDC showed less than 16 percent of developers were "very interested" in creating programs for RIM, compared with 90 percent for Apple and 80 percent for Android.