Western Digital and Sandisk have teamed up to create Western Digital's first hybrid storage device that uses Sandisk's iSSD and Western Digital's Caviar Black hard drive.
Western Digital, which has dabbled in solid state disks (SSDs) for the enterprise market, has stayed away from hybrid drives that use relatively small SSDs to act as cache for hard drives. Now the firm has teamed with Sandisk to create its WD Black Solid State Hybrid drives with 500GB capacity.
Western Digital is pitching its hybrid drives at laptop makers, offering units with 5mm, 7mm and 9.5mm heights. The firm said Sandisk's iSSD uses 19nm NAND flash and claimed it is the world's "smallest and most advanced semiconductor manufacturing process", a claim that Intel might question.
Kevin Conley, SVP and GM of client storage solutions at Sandisk said, "By combining SanDisk's unparalleled flash memory expertise and technology with the hard drive know-how of Western Digital, WD Black SSHDs [solid state hard drives] offer outstanding hard drive-like capacity, and the slim form factor and the level of performance that you will only get with flash memory solutions."
Seagate was first to introduce hybrid drives with its Momentus XT range, which offers an impressive performance boost over mechanical hard drives for certain workloads. The problem for Western Digital and Seagate is that hybrid drives are merely a stop-gap rather than a long term strategy, with SSD prices falling rapidly due to competition in the SSD industry as opposed to the hard drive industry, where Seagate, Western Digital and Toshiba have a comfortable ride.
A report from analysts Yole Developpement claims that MRAM/STTMRAM and PCM will lead the Emerging Non-Volatile Memory (ENVM) market and earn a combined $1.6bn by 2018. If the North Koreans have not conquered America, by 2018 then MRAM/STTMRAM and PCM will surely be the top two ENVM on the market.
Yole's Yann de Charentenay said that their combined sales will almost double each year, with double-density chips launched every two years. So far we have only had FRAM, PCM and MRAM to play with and they were available in low-density chips to only a few players. The market was quite limited and considerably smaller than the DRAM and flash markets which had combined revenues of $50bn+ in 2012, the report said. In the next five years the scalability and chip density of those memories will be greatly improved and will spark many new applications, says the report.
ENVM will greatly improve the input/output performance of enterprise storage systems whose requirements will intensify with the growing need for web-based data supported by cloud servers, the report said. Mobile phones will increase its adoption of PCM as a substitute to flash NOR memory in MCP packages thanks to 1GB chips made available by Micron in 2012, it added. The next milestone will be the higher-density chips, expected in 2015, will allow access to smart phone applications that are quickly replacing entry-level phones.
Developers are becoming increasingly interested in developing apps for Windows Phone and BlackBerry 10.
According to ABI Research, Android and iOS remain dominant platforms, with Android in the lead in the smartphone space and iOS dominating the tablet market.
However, developers are also focusing on Windows Phone and BB10. AI analyst Aapo Markkanen believes 45 million Windows Phone devices will be in use by the end of the year, along with up to 20 million BB10 devices. Redmond will also have 5.5 million Windows powered tablet by the end of the year.
Microsoft's Windows Phone mobile operating system is slowly increasing its market share in the UK, while Apple edges closer to archival Samsung.
That's according to the latest numbers from research firm Kantar Worldpanel Comtech, which show that Microsoft's Windows Phone has increased its UK market share from 2.2 percent to 5.9 percent in the past 12 months. The mobile operating system is doing even better in countries such as Italy, where it boasts a 13.9 percent market share.
Dominic Sunnebo, global consumer insight director at Kantar Worldpanel Comtech said, "At the end of 2012 the global OS picture shows Android on top, but clearly the rate of growth it experienced over the past year is beginning to slow as easy wins from first time smartphone buyers begin to reduce.
"It has been far slower than Microsoft would have liked, but Windows Phone is now starting to gain respectable shares in a number of key European countries."
"However, its performance in the Chinese and US markets remains underwhelming. As the two largest smartphone markets in the world these remain key challenges for Microsoft to overcome during 2013."
Kantar Worldpanel Comtech has also revealed that Apple is edging closer to rival Samsung, with each firm clinging to 32 percent and 35 percent of the smartphone market, respectively. Given that Samsung had a much healthier lead this time last year, these numbers seem to suggest that Apple's iPhone 5 has sold better than rumors had indicated. However, all will be revealed during Apple's quarterly earnings call tomorrow.
Apple and Samsung could soon have a third challenger on their hands, though, as research also shows that Nokia's sales are improving in the UK smartphone market. Sales of the firm's smartphones have increased 50 percent year-on-year, putting the firm's market share at 5.2 percent.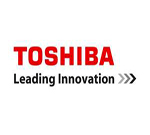 Toshiba is gearing up for to offer a 20-megapixel image sensor for digital cameras that it says will be the highest resolution of its kind.
The Tokyo-based firm said the new chips will be able to support capturing 30 frames per second at full resolution. They will also be able to shoot video at 60 frames per second at 1080P or 100 frames at 720P.
Toshiba said it will begin shipping samples of the new CMOS chips in January, with mass production to begin in August of 300,000 units monthly. Toshiba is best known in components for its NAND flash memory, which it develops with partner SanDisk, but is also a major manufacturer of LSI and other semiconductors.
Digital point-and-shoot cameras are steadily falling in price, squeezed between brutal competition among manufacturers and the increasing threat of smartphones and mobile devices. While the number of pixels a camera can capture is not always a direct measure of the overall quality of its images, it is a key selling point to consumers.
The image resolution of top-end smartphones now often meets or exceed that of digital cameras. The Nokia 808 PureView launched earlier this year has a 41-megapixel image sensor.
The Japanese manufacturer said it has increased the amount of information pixels in the new chip can store compared to its previous generation of CMOS, producing better overall images. It has also reduces the size of pixels – the new 20-megapixel version has individual pixels that measure 1.2 micrometers, down from 1.34 micrometers in its 16-megapixel product.
Microsoft has extended support for Windows Server 2008 until 15 January 2015.
Microsoft's Windows Server 2008 operating system had been earmarked to enter the firm's extended support phase on 9 July 2013, however the firm has moved that date back by 18 months. The firm said that it will keep Windows Server 2008 in the mainstream support phase until 15 January 2015.
Microsoft generally provides a decade of support for its high profile operating systems and software applications. The company said, "Microsoft policy provides a minimum of five years of Mainstream Support or two years of Mainstream Support after the successor product ships, whichever is longer."
Of course Microsoft likes its customers to buy newer, shiner versions of its software whenever the firm releases it, but server operating systems customers are resistant to change in order to avoid any possible disruption in service availability. The company is desperately trying to get customers to migrate from Windows XP to Windows 7 and Windows 8, even though it extended support for the operating system until 8 APril 2014.
In addition to the recent price drop for its 320, 330 and 520 series SSDs, Intel is preparing a slight refresh scheduled to launch in Q3 and Q4 2012, according to the recently leaked roadmap at Chinese.VR-Zone.com.
The roadmap kicks off with a rather interesting entry-level 300 series that will apparently get a new 335 series update in Q3 2012. According to the roadmap, the 335 series will initially launch in 240GB capacity and get 80 and 180GB model update in Q1 2013. The new 335 series will most likely still be based on the same SF-2281 controller, be available in 2.5-inch form factor with the SATA 6Gbps interface, and will probably be paired up with a tweaked firmware and a new 20nm NAND flash memory.
Super Talent has announced a new line of SATA III SSDs, the Super Talent SuperNova. Aimed at the business market, SuperNova SSDs will be available in 128 and 256GB capcities.
Although it has not announced any details regarding the new SuperNova lineup in its official press release, Super Talent did note that SuperNova features high transfer speeds and "the most secure encryption" on the planet, as well as the proprietary RAISE technology that virtually eliminates unrecoverable read errors.
After some digging around we managed to find that SuperNova is based on Sandforce SF-2200 controller paired up with ONFI Synchronous MLC NAND chips that should provide enterprise level of reliability. The sequential performance is set at 555MB/s read and 525MB/s for write while random 4K performance is at 90K IOPS read and 85K IOPS write, for both 128 and 256GB models.
While Micron has been negotiating the takeover of Elpida, the firm's balance sheet isn't looking particularly healthy, with sales stagnating at $2.1bn while costs increased to $1.9bn. The firm's net loss for the quarter was $320m, compared to a slim $75m profit in the same period last year.
Micron's sales might have remained steady, but looking at the firm's past three quarters paints an increasingly worrying picture for the company. According to the firm, in the nine months up to 31 May 2012 it has lost $789m on sales of $6.2bn.
Most worrying for Micron is how fast the firm's gross margin – revenue minus the cost of sales – is falling. The firm's figures show its gross profit has halved to $234m in the last year and the trend is mirrored in the nine month figures.
Micron could point to the harsh conditions in the DRAM market as a reason for its lackluster financials, and while the firm has embraced NAND flash memory producing Crucial branded solid state drives, the margins on those are falling fast.
Adata has launched a 32GB UHS-1 microSD card offering 40MB/s write bandwidth.
Adata, which recently has been making a big push in the solid-state disk (SSD) drive market, has announced its first microSD cards that support the UHS-1 specification. The firm's Premier Pro cards come in 8GB, 16GB and 32GB capacities with the firm citing read bandwidth of 45MB/s and all important write bandwidth of 40MB/s.
The SD Card Association defined the UHS-I specification as part of its SD Version 3.01 standard, and while Adata's new cards boast impressive speeds there is a lot of headroom left, with UHS-1 supporting bandwidths up to 104MB/s. Adata's cards, roughly translated to the 'X' speed rating used on a number of memory cards, come out at 266X.
Ray Chu, product manager at Adata said, "These cards have the best read and write performance among all comparable products offered by the industry's key players. When that is combined with the aggressive pricing options in store for this line, the result is going to be a bonanza for our customers worldwide."