If you want a wearable Internet of Things, the electronics have to be as tiny and as energy efficient as possible. That's why a new microcontroller by Freescale Semiconductor is noteworthy.
The company has produced the Kinetis KLO3 MCU, a 32-bit ARM system that is 15% smaller than its previous iteration but with a 10% power improvement.
Internet of Things is a buzzword for the trend toward network-connected sensors incorporated into devices that in the past were standalone appliances. These devices use sensors to capture things like temperatures in thermostats, pressure, accelerometers, gyroscopes and other types of MEMS sensors. A microcontroller unit gives intelligence and limited computational capability to these devices, but is not a general purpose processor. One of the roles of the microcontroller is to connect the data with more sophisticated computational power.
The Kinetis KLO3 runs a lightweight embedded operating system to connect the data to other devices, such as an app that uses a more general purpose processor.
Kathleen Jachimiak, product launch manager at Freescale, said the new microcontroller will "enable further miniaturization" in connected devices. This MCU is capable of having up to 32 KB of flash memory and 2 KB of RAM.
Consumers want devices that are light, small and smart. They also want to be able to store their information and send it to an application that's either on a phone or a PC, Jachimiak said.
This microcontroller, at 1.6 x 2.0 mm, is smaller than the dimple on a golf ball, and uses a relatively new process in its manufacturing, called wafer level chip scale packaging. The process involves building the integrated package while the die is still part of a wafer. It's a more efficient process and produces the smallest possible package, for a given die size.
(View Comments)
A modern phone with 2GB of memory works just fine and since all Android chips and the OS itself support 32-bit mode only, it doesn't makes much sense to jump over 3.5GB anytime soon.
Still, 64-bit support for Android might be coming after all and Samsung has a solution for people who want more than 3GB on their phone. Samsung has announced the first 8 gigabit (Gb) 4GB RAM module based on low power double data rate 4 (LPDDR4 memory).
It is a 20nm chip and has the lowest energy consumption and higher density to date. Four 8Gb dies combine to offer a single 4GB module we should see them in smartphones and tablets in the near future.
With 3.1 Gbps bandwidth the new LPDDR4 can deliver a 50 percent speed boost over the existing DDR3 and LPDDR3 based chips. Samsung also claims that LPDDR4 will enable a data transfer rate per pin of 3,200 megabits per second (Mbps), which is twice that of the 20nm-class LPDDR3 DRAM.
The Samsung claims that the chip needs 1.1 volts which is 40 percent less than what you would need for 20nm DDR3 chips and mass production starts in 2014.
It is not known when we can expect to see phones and tablets based on LPDDR4 anytime soon, but a dreamer can hope that phones such as Samsung Galaxy S5 might end up using one. After all this should be the next big thing, at least this is what Samsung wants you to believe.
Silicon Motion says it has begun shipping samples of a new USB 3.0 controller chip for flash drives that could boost performance by up to 50%.
The company said the new SM3267 integrated controller is expected to deliver up to 160MB/s read, and 60MB/s write speeds through a single channel; that would be a 30% to 50% performance improvement over today's USB 3.0 flash drive technology.
Even though the USB 3.0 specification has the capability to support 4.8Gbps throughput speeds, the speed of a USB 3.0-enabled flash drive is dictated by the speed of the accessing flash devices in the drive. Today, most consumer-USB 3.0 flash drives support about 100MB/s read speeds.
We are pleased to announce that SM3267 has received design-ins from most of our current USB controller customers, including many top-tier OEMs, and we expect SM3267-based USB 3.0 flash drives will be commercially available starting in the fourth quarter of 2013," Wallace Kou, CEO of Silicon Motion, said in a statement.
The new integrated chip will also be able to run at lower voltages, from 5 volts to 1.2 volts, enabling a 25% to 30% lower USB flash drive device temperature compared with other USB 3.0 flash controller products in the market, Silicon Motion said.
The new IC will support the vast majority of NAND flash technology, including new triple-level cell (TLC), multi-level cell (MLC), high speed Toggle, and ONFI DDR NAND manufactured by Samsung, Toshiba, SanDisk, SK Hynix, Micron and Intel.
The new chip has already passed both USB-IF compliance testing and WHCK (Windows Hardware Certification Kit) tests for Windows 7 and Windows 8.
The new IC is available in a Chip-on-Board (COB) and in a 48-pin QFN green package.
Micron Technology has announced that is is currently shipping 2GB Hybrid Memory Cube (HMC) engineering samples that represent a dramatic step forward in memory technology and are designed for applications that require high-bandwidth access to memory like data processing, data packet buffering or storage.
According to Micron, the Hybrid Memory Cube uses advanced through-silicon vias (TSVs)-vertical conduit that connect a stack of individual chips in order to combine high-performance logic with Micron's DRAM. The current engineering sample features a 2GB memory cube that consists of four 4Gb DRAM dies. It provides 160GB/s of memory bandwidth while using up to 70 percent less energy per bit when compared to currently available technologies.
Micron expects 4GB HMC engineering samples to be available in early 2014 while volume production of both 2GB and 4GB HMC is scheduled to begin later in 2014.
Wi-Lan has suffered defeat in its patents trial against Alcatel Lucent, Ericsson, HTC and Sony, as a Texas court decided that the firms did not infringe its patents.
Wi-Lan filed a lawsuit against Alcatel Lucent, Ericsson, HTC and Sony in 2010 claiming the firms infringed patents that relate to data transmission over wireless networks. However a Texas court ruled that the four firms did not infringe Wi-Lan's patents and found one patent Wi-Lan asserted against HTC and two it asserted against Alcatel Lucent invalid.
Wi-Lan had asserted that Alcatel Lucent and Ericsson infringed three patents, none of which claims were upheld by the court. The firm also asserted that HTC and Sony infringed another patent, and there the court not only judged against infringement but invalidated the patent.
Alcatel Lucent and HTC both said that Wi-Lan was trying to stretch its patents to cover technology in their devices.
Sally Julien, a spokeswoman for HTC said, "HTC believes that Wi-Lan has exaggerated the scope of its patent in order to extract unwarranted licensing royalties from entities who have been focused on bringing innovation forward in their own products."
Kurt Steinert, an Alcatel Lucent spokesman said, "We think this validates our belief that Wi-Lan was stretching the boundaries of its patents, and the jury confirmed that belief."
Wi-Lan has managed to get several companies to license its technology including Dell and Panasonic, and in May it initiated legal proceedings against Blackberry over a patent relating to Long Term Evolution network technology. However in this case the firm did not prevail against two large telecom equipment companies and two big smartphone makers.
Western Digital and Sandisk have teamed up to create Western Digital's first hybrid storage device that uses Sandisk's iSSD and Western Digital's Caviar Black hard drive.
Western Digital, which has dabbled in solid state disks (SSDs) for the enterprise market, has stayed away from hybrid drives that use relatively small SSDs to act as cache for hard drives. Now the firm has teamed with Sandisk to create its WD Black Solid State Hybrid drives with 500GB capacity.
Western Digital is pitching its hybrid drives at laptop makers, offering units with 5mm, 7mm and 9.5mm heights. The firm said Sandisk's iSSD uses 19nm NAND flash and claimed it is the world's "smallest and most advanced semiconductor manufacturing process", a claim that Intel might question.
Kevin Conley, SVP and GM of client storage solutions at Sandisk said, "By combining SanDisk's unparalleled flash memory expertise and technology with the hard drive know-how of Western Digital, WD Black SSHDs [solid state hard drives] offer outstanding hard drive-like capacity, and the slim form factor and the level of performance that you will only get with flash memory solutions."
Seagate was first to introduce hybrid drives with its Momentus XT range, which offers an impressive performance boost over mechanical hard drives for certain workloads. The problem for Western Digital and Seagate is that hybrid drives are merely a stop-gap rather than a long term strategy, with SSD prices falling rapidly due to competition in the SSD industry as opposed to the hard drive industry, where Seagate, Western Digital and Toshiba have a comfortable ride.
A report from analysts Yole Developpement claims that MRAM/STTMRAM and PCM will lead the Emerging Non-Volatile Memory (ENVM) market and earn a combined $1.6bn by 2018. If the North Koreans have not conquered America, by 2018 then MRAM/STTMRAM and PCM will surely be the top two ENVM on the market.
Yole's Yann de Charentenay said that their combined sales will almost double each year, with double-density chips launched every two years. So far we have only had FRAM, PCM and MRAM to play with and they were available in low-density chips to only a few players. The market was quite limited and considerably smaller than the DRAM and flash markets which had combined revenues of $50bn+ in 2012, the report said. In the next five years the scalability and chip density of those memories will be greatly improved and will spark many new applications, says the report.
ENVM will greatly improve the input/output performance of enterprise storage systems whose requirements will intensify with the growing need for web-based data supported by cloud servers, the report said. Mobile phones will increase its adoption of PCM as a substitute to flash NOR memory in MCP packages thanks to 1GB chips made available by Micron in 2012, it added. The next milestone will be the higher-density chips, expected in 2015, will allow access to smart phone applications that are quickly replacing entry-level phones.
Developers are becoming increasingly interested in developing apps for Windows Phone and BlackBerry 10.
According to ABI Research, Android and iOS remain dominant platforms, with Android in the lead in the smartphone space and iOS dominating the tablet market.
However, developers are also focusing on Windows Phone and BB10. AI analyst Aapo Markkanen believes 45 million Windows Phone devices will be in use by the end of the year, along with up to 20 million BB10 devices. Redmond will also have 5.5 million Windows powered tablet by the end of the year.
Microsoft's Windows Phone mobile operating system is slowly increasing its market share in the UK, while Apple edges closer to archival Samsung.
That's according to the latest numbers from research firm Kantar Worldpanel Comtech, which show that Microsoft's Windows Phone has increased its UK market share from 2.2 percent to 5.9 percent in the past 12 months. The mobile operating system is doing even better in countries such as Italy, where it boasts a 13.9 percent market share.
Dominic Sunnebo, global consumer insight director at Kantar Worldpanel Comtech said, "At the end of 2012 the global OS picture shows Android on top, but clearly the rate of growth it experienced over the past year is beginning to slow as easy wins from first time smartphone buyers begin to reduce.
"It has been far slower than Microsoft would have liked, but Windows Phone is now starting to gain respectable shares in a number of key European countries."
"However, its performance in the Chinese and US markets remains underwhelming. As the two largest smartphone markets in the world these remain key challenges for Microsoft to overcome during 2013."
Kantar Worldpanel Comtech has also revealed that Apple is edging closer to rival Samsung, with each firm clinging to 32 percent and 35 percent of the smartphone market, respectively. Given that Samsung had a much healthier lead this time last year, these numbers seem to suggest that Apple's iPhone 5 has sold better than rumors had indicated. However, all will be revealed during Apple's quarterly earnings call tomorrow.
Apple and Samsung could soon have a third challenger on their hands, though, as research also shows that Nokia's sales are improving in the UK smartphone market. Sales of the firm's smartphones have increased 50 percent year-on-year, putting the firm's market share at 5.2 percent.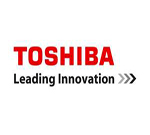 Toshiba is gearing up for to offer a 20-megapixel image sensor for digital cameras that it says will be the highest resolution of its kind.
The Tokyo-based firm said the new chips will be able to support capturing 30 frames per second at full resolution. They will also be able to shoot video at 60 frames per second at 1080P or 100 frames at 720P.
Toshiba said it will begin shipping samples of the new CMOS chips in January, with mass production to begin in August of 300,000 units monthly. Toshiba is best known in components for its NAND flash memory, which it develops with partner SanDisk, but is also a major manufacturer of LSI and other semiconductors.
Digital point-and-shoot cameras are steadily falling in price, squeezed between brutal competition among manufacturers and the increasing threat of smartphones and mobile devices. While the number of pixels a camera can capture is not always a direct measure of the overall quality of its images, it is a key selling point to consumers.
The image resolution of top-end smartphones now often meets or exceed that of digital cameras. The Nokia 808 PureView launched earlier this year has a 41-megapixel image sensor.
The Japanese manufacturer said it has increased the amount of information pixels in the new chip can store compared to its previous generation of CMOS, producing better overall images. It has also reduces the size of pixels – the new 20-megapixel version has individual pixels that measure 1.2 micrometers, down from 1.34 micrometers in its 16-megapixel product.