Citrix System's GoToWebcast has become generally available in North America and Europe, offering users a cloud-based webcasting tool for up to 5,000 participants.
The subscription-based GoToWebcast allows users to broadcast unlimited audio and video presentations to live and on-demand audiences that can access them using mobile devices such as Apple's iPhones and iPads, or Android-based smartphones and tablets.
To simplify administration, GoToWebcast has a five-step wizard that walks users through setting up their event. Users are first asked to schedule the event, including deciding audience size and if the web cast should be available on-demand or live with an archive. Users are then asked to select registration alternatives, multimedia options, choose what content to upload and finally decide on security and email settings.
In addition to audio and video, users can upload presentation documents, chat with attendees, conduct polls and link to social media channels. Citrix didn't announce any pricing for the new service, only saying that users pay a fixed monthly fee.
The company also released a beta version of GoToWebinar with HDFaces for the 500- and 1,000-attendee plans. HDFaces is a video conferencing technology that lets up to six presenters lead interactive Q&A sessions, host panel discussions, or do demonstrations in high-definition.
The announcement comes after the recently announced availability of HDFaces for up to 100 participants in GoToWebinar and GoToTraining sessions, as Citrix adds high-definition video across its GoTo portfolio.
BlackBerry plans to roll out a larger tablet and two phone-tablet combos, or phablets, over the next year, according to a leaked road map presentation slide.
The three devices will run the BlackBerry 10 mobile operating system, which powers the Z10 smartphone and the upcoming Q10, which features a physical qwerty keyboard, according to the slide, which first appeared over the weekend on Twitter as @BB10Leaks.
BlackBerry officials didn't comment on the road map. However, in comments to analysts last Thursday, CEO Thorstein Heins said repeatedly that the company will introduce more BlackBerry 10 devices this year, though he didn't indicate what form factors the products would feature.
The three new devices shown in the slide include a BlackBerry 10 tablet with a widescreen aspect ratio, as well as a "U10″ phone-tablet, which some call a phablet, and an "R10″ phablet with a physical qwerty keyboard.
The slide indicates that the B10 tablet will ship in the third or fourth quarter, while the two phablets will be released later, with the U10 shipping at the end of the year and the R10 in spring of 2014.
There are no specifications on the slide, but the devices appear to be shown roughly in proportion to one another, with the phablets appearing to be wider than the existing Z10 and Q10 smartphones.
BlackBerry already has a 7-in. tablet called the PlayBook that is more square in shape than the widescreen look of the B10 in the slide. Some analysts and bloggers said it's possible that BlackBerry is developing a competitor to the various 9-to-11-in. tablets already on the market, including many Android tablets, as well as the 9.7-in. iPad.
"BlackBerry wants to be a full-line competitor, particularly for business users, so they have to have a full line of products to compete head-on with Apple and Android, primarily Samsung," said Jack Gold, an analyst at J.Gold Associates. "I would expect any viable competitor to establish a full line of products touching on all the various preferences of the marketplace, which includes smartphones, phablets and tablets."
Gold couldn't confirm whether any of the details in the leaked slide were accurate, but he noted that it doesn't appear to include the mid-priced smartphones that Heins and other executives have hinted that BlackBerry may launch over the next few quarters.
The PlayBook tablet first went on sale in April 2011, running on what BlackBerry then called the BlackBerry Tablet OS, based on QNX. BlackBerry later said it would merge that tablet operating system into BlackBerry 10. The company also released a major update to the PlayBook tablet operating system in February 2012.
The first release of the PlayBook was criticized for not having native email.
Analysts are not sure that BlackBerry can keep up with production demand for so many new devices that depend on a relatively constrained supply chain for displays and other components. But to boost its global smartphone market share, currently at less than 10%, BlackBerry will need a product lineup with a variety of options.
Is Apple proving how clueless it is about security by backing a method of replacing passwords with fingerprint readers?
Just days after a scandal where a South American hospital was staffed by phantom doctors who used silicon fingers of their colleagues to convince administrators' finger print readers that they were working, Apple has decided that they are the perfect form of security.
Word on the street is that Apple is said to be planning to introduce an iPhone that can be unlocked by the owner's fingerprint. Speculation about Apple's plans for fingerprint recognition began last summer when the iPhone maker bought bio-metric security firm AuthenTec for $335 million.
It is believed that the iPhone 5S will have a fingerprint chip under the Home button, to "improve security and usability." Meanwhile in an engineering journal, two Google security experts outlined plans for an ID ring or smartphone chip that could replace online passwords, which is a lot sexier than fingerprint scanning.
Hewlett-Packard garnered attention at Mobile World Congress show with its new Slate 7-inch tablet and then the sale of webOS assets, but the company is looking to put past distractions behind and will release more tablets in the future, the company said.
"You can expect going forward [to release] a family of products," said Shane Wall, chief technology officer at Hewlett-Packard's mobility group, in an interview at MWC. The mobility trade show is being held in Barcelona from Feb. 25 to 28.
The 7-inch tablet attracted a small crowd at the HP booth, with people lining up to photograph or use the device. The company effectively took a dive into the low-cost tablet and tried to differentiate its tablet by a lower price, and also features like a micro-SD card slot for expandable storage and dual-cameras. Google's $199 Nexus 7 is priced higher and has a quad-core processor, a higher-resolution screen and Android 4.2, but HP believes it will sell a lot of the tablets at the $169 price.
"We're obviously late," Wall said. "We wanted to start and see how aggressive we can be on the low end."
The Slate 7 also signifies HP's re-entry into the consumer tablet market after a disastrous stint with the webOS mobile operating system, which it got with the acquisition of Palm in 2010 for $1.2 billion. The first webOS tablet, the TouchPad, was launched in 2011, but later discontinued along with webOS smartphones. Since then HP has released enterprise tablets such as ElitePad 900 with Windows 8, and now the company has adopted Android for consumer tablets.
Intel has scaled back plans for its next Itanium chip, prompting observers the question Intel's commitment to the chip.Intel said the next version of Itanium, codenamed Kittson, will be a 32nm part. It will not migrate to a more advanced process. The new chips will use the same socket as the existing Itanium 9300 and 9500 chips.
Analyst Nathan Brookwood said the move is Intel's idea of an exit strategy.
"It may very well be that Itanium's time has come and gone," he said.
Gartner analyst Martin Reynolds told Computerworld that Itanium might see a new process in the future, if it proves successful enough to make the investment worthwhile. However, he does not expect any more major updates to the architecture.
Itanium launched in 2001 and it quickly became a running joke in the industry. It never achieved the volumes expected by Intel and AMD seized the opportunity to take on Intel with 64-bit Opterons. However, Itanium soldiered on for years, although many vendors stopped developing software for the chip.
Apple will not develop a new, inexpensive iPhone just for the sake of offering a cheaper alternative, Apple CEO Tim Cook said in a speech on Tuesday.
The company's focus is on creating great products, and it will not make a smartphone that does not past the quality test, Cook said during a webcast from the Goldman Sachs Technology and Internet conference, which is being held in San Francisco.
"There are other companies that do that, that's not who we are," Cook said. "Our North Star is great products."
Instead, the company is now dropping prices on the older iPhone models. That has been successful, and the demand for iPhone 4 models in December was greater than supply, Cook said.
"It surprised us as to the level of demand we have for it," Cook said.
Lowering the price on older models is just one of the approaches Apple is taking to reach out to price-sensitive buyers. It's not easy to balance quality and price, and that's when innovation comes into play and new products could be created to meet consumer demand, Cook said.
"Sometimes you can take the issue … and you can solve it in different ways," Cook said.
For example, the first iPod that shipped in 2001 was priced at $399, and now users can buy an iPod Shuffle for $49. There was also a big demand in the past to drop the price of Macs to under $500, and Apple tried and couldn't do it, so it created the iPad tablet.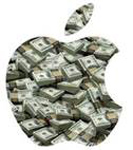 According to Apple's Q4 corporate filings, the company channeled $11 billion into tax havens in a single quarter. The Sunday Times claims the company is sheltering a total of $94 billion in tax havens. However, Apple's activities are completely legal and the IRS can't do anything about it.
But Apple's tax avoidance strategy is not limited to the US. The company is avoided an estimated £550 million in tax in Britain back in 2011. A different analysis suggests a £550 million tax bill. Let's not forget Kate Middleton is about to have a baby, and babies tend to cost money, so shame on you Apple.
American politicians, from both sides of the political spectrum, like to have their photos taken next to anything Apple.  The company is often viewed as an American success story, as it managed to reinvent itself and come back from the brink to become the world's second most valuable company.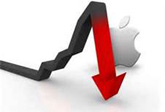 If you wanted to know the IT company which was a rotten investment this year, you might be thinking Facebook, HP or RIM.
However according to Business Insider is starting to look like the so-called industry leader, Apple might have caused its investors the biggest headaches. More money has been lost in the past three months in Apple stock than has ever been lost in the tech disasters known as Hewlett-Packard and Research In Motion combined.
HP's stock price peaked above $50 a few years ago, and now it's trading at $14 and RIM peaked above $140 a few years ago, and it's trading for $11. However Jobs Mob's share price peaked above $700 three months ago and is now trading just above $500. This means that on a percentage basis, therefore, Apple's stock is down much less than either Hewlett-Packard RIM but has cost shareholders a lot more money.
When HP investors have lost about $100 billion since the 2000 peak and RIM has lost $65 billion since the 2000 peak. Apple has cost its shareholders value in three months. What is more amusing is that about four months ago, I was lectured by an Apple fanboy who told me that the company is going to be worth a trillion dollars by the end of the year and he just invested more than $100,000 in the company. Looks like he would have been better off putting it on a horse.
Foxconn Technology Group is weighing whether or not to expand its existing manufacturing operations in the U.S., in a move that could be linked with Apple's plan to bring back Mac manufacturing to the country.
Foxconn made the statement last Friday after Apple CEO Tim Cook said in interviews with NBC and Businessweek that Apple would manufacture one of its Mac lines in the U.S. by the end of next year.
"So we'll literally invest over $100 million," Cook said. "This doesn't mean that Apple will do it ourselves, but we'll be working with people, and we'll be investing our money."
Analysts said Foxconn could be involved. The Taiwan-based firm is a major supplier for Apple, helping to build its iPhone and iPad. But much of that manufacturing is done in China, where Foxconn employs 1.2 million workers and labor costs are lower.
Without elaborating, Foxconn said it was considering the expansion in order to meet the needs of it customers, and to "leverage the high-value engineering talent" available in the U.S. market.
It's unclear what kind of manufacturing operations the company already has in the U.S. An expansion in the nation, however, would face challenges, said Amy Teng, an analyst with research firm Gartner.
"From the financial perspective, I don't see any advantage in why they (Foxconn) would assemble there, unless this is part of Apple's plan," she said. Labor costs in the U.S. are higher and it will be harder for the company to recruit U.S. workers for menial factory jobs, when compared to China.
Microsoft Corp Chief Executive Steve Ballmer said on Monday demand for the company's new Windows 8 operating system, that went on sale last Friday, was running at a higher rate than its last release, Windows 7.
"We're seeing preliminary demand well above where we were with Windows 7, which is gratifying," Ballmer said at an event launching new Windows phones.
Windows 7 is the best-selling version of Windows so far, selling more than 670 million licenses in three years since release in 2009.
"Over the weekend we saw an incredible response around the globe to Windows 8 and the Microsoft Surface," said Ballmer, referring to Microsoft's first own-brand tablet, designed to challenge Apple Inc's iPad. He did not give out any sales figures.
On Friday, there were moderate lines at Microsoft's 60 or so stores across the United States for the Surface.
Ballmer was in San Francisco speaking at an event showcasing phones running its new Windows Phone 8 software, which go on sale this weekend.
Microsoft has struggled to make headway in the smartphone market, holding just 3.5 percent of the worldwide market, compared to 68 percent for Google Inc's Android devices and 17 percent for Apple's iPhone, according to tech research firm IDC.
The company highlighted how the new phones make use of Microsoft's SkyDrive cloud service, enabling users to sync and transfer music, documents and photos between PCs, tablets and the Xbox game console. Microsoft added that it now has 120,000 apps in its online store for phones, still far fewer than the number available for iPhone and Android users.