Developers are becoming increasingly interested in developing apps for Windows Phone and BlackBerry 10.
According to ABI Research, Android and iOS remain dominant platforms, with Android in the lead in the smartphone space and iOS dominating the tablet market.
However, developers are also focusing on Windows Phone and BB10. AI analyst Aapo Markkanen believes 45 million Windows Phone devices will be in use by the end of the year, along with up to 20 million BB10 devices. Redmond will also have 5.5 million Windows powered tablet by the end of the year.
Research In Motion has hinted that it will unveil two new handsets early next month to accompany the release of its BlackBerry 10 operating system.
RIM is expected to unveil the phones at an event in New York City on Wednesday and will begin promoting BlackBerry 10 to consumers the following Sunday, Feb. 3, when it will air a TV commercial during the Super Bowl.
The sporting event attracts one of the largest TV audiences of the year in America, and companies pay millions of dollars for a 30-second advertising spot, underscoring how important it is for RIM that its new BlackBerry platform will be a hit. The same commercial will also air in Canada, RIM's home country.
In announcing its publicity plans Friday, RIM also hinted at when the phones will be available to consumers. It said the TV spot "kicks off a week of worldwide launch activity for RIM's BlackBerry 10 platform, along with the first two devices to run on the new platform."
If the commercial marks the start of a weeklong buildup to the launch, that would put the North American release of the phones at roughly the start of the second week in February.
Microsoft's Windows Phone mobile operating system is slowly increasing its market share in the UK, while Apple edges closer to archival Samsung.
That's according to the latest numbers from research firm Kantar Worldpanel Comtech, which show that Microsoft's Windows Phone has increased its UK market share from 2.2 percent to 5.9 percent in the past 12 months. The mobile operating system is doing even better in countries such as Italy, where it boasts a 13.9 percent market share.
Dominic Sunnebo, global consumer insight director at Kantar Worldpanel Comtech said, "At the end of 2012 the global OS picture shows Android on top, but clearly the rate of growth it experienced over the past year is beginning to slow as easy wins from first time smartphone buyers begin to reduce.
"It has been far slower than Microsoft would have liked, but Windows Phone is now starting to gain respectable shares in a number of key European countries."
"However, its performance in the Chinese and US markets remains underwhelming. As the two largest smartphone markets in the world these remain key challenges for Microsoft to overcome during 2013."
Kantar Worldpanel Comtech has also revealed that Apple is edging closer to rival Samsung, with each firm clinging to 32 percent and 35 percent of the smartphone market, respectively. Given that Samsung had a much healthier lead this time last year, these numbers seem to suggest that Apple's iPhone 5 has sold better than rumors had indicated. However, all will be revealed during Apple's quarterly earnings call tomorrow.
Apple and Samsung could soon have a third challenger on their hands, though, as research also shows that Nokia's sales are improving in the UK smartphone market. Sales of the firm's smartphones have increased 50 percent year-on-year, putting the firm's market share at 5.2 percent.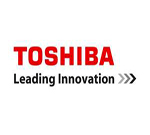 Toshiba is gearing up for to offer a 20-megapixel image sensor for digital cameras that it says will be the highest resolution of its kind.
The Tokyo-based firm said the new chips will be able to support capturing 30 frames per second at full resolution. They will also be able to shoot video at 60 frames per second at 1080P or 100 frames at 720P.
Toshiba said it will begin shipping samples of the new CMOS chips in January, with mass production to begin in August of 300,000 units monthly. Toshiba is best known in components for its NAND flash memory, which it develops with partner SanDisk, but is also a major manufacturer of LSI and other semiconductors.
Digital point-and-shoot cameras are steadily falling in price, squeezed between brutal competition among manufacturers and the increasing threat of smartphones and mobile devices. While the number of pixels a camera can capture is not always a direct measure of the overall quality of its images, it is a key selling point to consumers.
The image resolution of top-end smartphones now often meets or exceed that of digital cameras. The Nokia 808 PureView launched earlier this year has a 41-megapixel image sensor.
The Japanese manufacturer said it has increased the amount of information pixels in the new chip can store compared to its previous generation of CMOS, producing better overall images. It has also reduces the size of pixels – the new 20-megapixel version has individual pixels that measure 1.2 micrometers, down from 1.34 micrometers in its 16-megapixel product.
Apple will debut a new iPad some time in early March, and will start selling it the following week, according to reports and industry analyst expectations.
The March debut of the iPad 3, as some have called it, was first reported today by AllThingsD, the blog owned by Dow Jones, the publisher of the Wall Street Journal. Citing unnamed sources, the blog said Apple will host a launch event the first week of March, likely at the Yerba Buena Center for the Arts in San Francisco, a regular venue for the company's press announcements.
Last year, then-CEO Steve Jobs returned from medical leave to lead the launch event of the iPad 2 on March 2. Apple started selling the new tablet on March 11, 2011 via its online store.
If Apple follows the same timeline, it will probably conduct the event the week of March 5-9, and begin selling the new model the following week.
It's possible that Apple will trot out a new iPad on one of the first two days of March — Thursday, March 1 or Friday, March 2 — but Apple usually hosts events earlier in the week.
Next month's iPad introduction, if it does take place, will be the first without Jobs, who died last October at the age of 56 of complications from his long-running battle with pancreatic cancer.
The U.S. government is losing a race in cyberspace — a social-networking race for the hearts and minds of the Internet community, a computer security expert said Wednesday.
Other countries — and many companies — are using social-networking tools to their advantage, while the U.S. government has taken tiny steps forward, said Rand Waltzman, a program manager focused on cybersecurity at the U.S.Defense Advanced Research Projects Agency (DARPA).
The Chinese government pays citizens to patrol social-networking sites and dispute negative talk about all levels of government or any aspect of Chinese life, and companies such as Dell and Best Buy are training workers to respond to complaints on Facebook and other social-networking services, Waltzman said at the Suits and Spooks security conference in Arlington, Virginia.
U.S. regulations prevent the government from undertaking similar campaigns, he said. "Any time you want to go to the bathroom, you need presidential approval," he said.
The U.S. will not be able to protect its residents if it cannot engage in its own covert social-media operations, Waltzman said.
Waltzman told about a U.S. special forces unit in Iraq in 2009 that attacked an insurgent paramilitary group, killed 16 of the members of the group and seized a "huge" weapons cache. As soon as the U.S. unit left the scene, the Iraqi group returned, put the bodies on prayer mats, and uploaded a photograph from a cheap mobile phone, he said. The group put out a press release in English and Arabic.
Verizon Wireless finally announced that the Samsung Galaxy Nexus smartphone running Android 4.0 on its 4G LTE network will be available on Thursday in stores and online for $299.99 with a two-year agreement.
The announcement, which came late Wednesday, arrived after days of speculation that the phone was being delayed over a dispute between the carrier and Google over the Google Wallet application, which doesn't work on Verizon's version.
During the period many expected Verizon to release the Galaxy Nexus, problems with the carrier's LTE network arose for nearly two days, pushing LTE users to Verizon's slower 3G service.
But Verizon never admitted there was any delay in releasing the device and pointed out that it had never given an official release date until Wednesday.
Verizon will carry a 4G LTE version that supports download speeds of up to 12Mbps. Online sales were set to start at 1 a.m. ET Thursday.
The new device has many features putting it at the top of the market for competing smartphones, including one of the highest prices: $299.99. Many rivals are priced at $200 or $250 on other U.S. carriers.
.
Sprint will be the first U.S. mobile carrier to offer Samsung's Galaxy S II, starting Sept. 16, but T-Mobile and AT&T said Tuesday they also will sell the phone.
A follow-on to the popular Galaxy S, the phone will be the thinnest available at all three operators.
The largest mobile carrier in the U.S., Verizon Wireless, notably has decided not to sell the phone. Verizon recently said it already has an extensive portfolio of Android phones and so would not offer the Galaxy S II.
All models of the Galaxy S II will work on the 4G networks of the respective operators and will run Android 2.3, or Gingerbread. The phone will have a 4.3-inch Super Amoled Plus display, which uses technology developed by Samsung. It will have an 8-megapixel rear camera, plus a 2-megapixel front-facing camera for video conferencing.
Taiwan's Micro-Star International unveiled two new Android-based tablets at Computex this week that appear much sleeker than the WindPad tablets it has manufactured in the past.
The WindPad Enjoy 10 and Enjoy 7, which are being shown in a location further away from the show floor, will start shipping to retailers at the end of July, priced at $299 for the 10-inch version and $199 for the 7-inch version, said MSI product manager Rory Chen.
The tablets on show here were running the 2.3 Gingerbread version of Android. MSI hopes to start using the 3.0 Honeycomb Android OS on the tablets later this year, but it's unlikely to be available with the first devices that go on sale.
The Enjoy 10 isn't as thin and light as the iPad 2, and a spec sheet shows the new tablets have no 3G option — only Bluetooth and Wi-Fi. It's also behind the iPad in other areas such as memory and storage. But the Enjoy 10′s $299 price tag makes it considerably cheaper than Apple's tablet, which starts at $499 for the Wi-Fi-only model.
Verizon Wireless announced the Revolution by LG, an LTE-ready smartphone, will become available for sale in stores and online Thursday for $249.99 with a two-year service plan.
The Revolution has a 4.3-in. touch screen and 1 GHz Snapdragon processor. It utilizes the Android 2.2 mobile operating system and comes preloaded with the Netflix application for access to movies and TV shows.
Verizon called the smartphone an "entertainment powerhouse" partly due to the Netflix capability, but the Revolution also runs the Adobe Flash player, provides Dolby Mobile sound and features high-definition video recording and playback.