Sony will unload its struggling PC business to a Japanese investment firm, the company said Thursday, raising the possibility that the "Vaio" brand could all but disappear from markets outside Japan.
Tokyo-based investment fund Japan Industrial Partners (JIP) will operate the Vaio PC brand under a newly established firm and initially sell PCs in Japan only.
In another reform aimed at bolstering its restructuring efforts, Sony also said it would turn its beleaguered TV business into a subsidiary.
The moves come as Sony said it now expects a net loss of $1.1 billion for the year to the end of March, a reversal of its October profit forecast.
Vaio, which Sony introduced in 1996, looks set to vanish from most markets, at least for short term, as the new company will initially concentrate on selling consumer and corporate PCs in Japan. Whether or not Sony will continue to produce products under the Vaio brand remains to be seen, Sony said.
Although Sony is selling its PC business, it will continue to produce tablet computers, part of its renewed focus on mobile devices including smartphones.
Sony did not put a price on the sale. Sony will take a 5% stake in the new firm, it said.
Sony will stop making and selling PCs after its 2014 Spring lineup launch, but about 250 to 300 Sony staff, including some from a subsidiary that produces TV sets, cameras and computers at factories in Japan, will be hired by the new company, which is to be based at the hub of Sony's current PC business in Japan's Nagano Prefecture.
Meanwhile, Sony said it will turn its TV business, which has faced a decade of losses, into a wholly owned subsidiary by July 2014.
Japan's Sony Corp has changed its mind and decided not to sell its lithium-ion battery unit.  Instead Sony has decided to take a chance at turning the business around with a weak yen and growing demand for smart phone batteries.
In addition to a weak yen, which can boost overseas earnings, the battery unit is also seeing increased demand for some of its new products, the Nikkei business daily reported.
For the past two years Sony had been planning to offload the unit, which was a pioneer in making lithium-ion batteries for computers and mobile devices but has struggled recently against cheaper South Korean rivals.
A government turnaround fund tried to broker a sale of the battery business to a Nissan Motor Co Ltd and NEC Corp joint venture earlier this year.
However, talks have stalled and Sony has now told the turnaround fund that it will hold on to the battery unit and develop it as a core business, the Nikkei reported, citing unidentified sources.
Sony, which last year sold its chemical business to the government turnaround fund, is trying to revive the fortunes of its consumer electronics business by focusing on cameras,gaming and mobile devices.
Kaspersky has claimed that the infamous Stuxnet computer worm "badly infected" the internal network of an unnamed Russian nuclear plant after it caused chaos in Iran's nuclear facilities.
Speaking at a keynote presentation given at the Canberra Press Club 2013, Kaspersky CEO Eugene Kaspersky said a staffer at the unnamed nuclear plant informed him of the infection.
"[The staffer said] their nuclear plant network which was disconnected from the internet was badly infected by Stuxnet," Kaspersky said.
"So unfortunately these people who were responsible for offensive technologies, they recognise cyber weapons as an opportunity."
Stuxnet was discovered to have spread throughout industrial software and equipment in 2010 and is believed to have been created by the United States and Israel to attack Iran's nuclear facilities. According to Kaspersky's source, the malware was carried into the Russian nuclear plant and installed on a physically separated "air-gapped" network.
Kaspersky also made a rather outlandish joke during his speech, saying that all data is subject to theft. "All the data is stolen," Kaspersky said. "At least twice."
"If the claim of the Russian nuclear plant infection is true, then it's easy to imagine how this "collateral damage" could have turned into a very serious incident indeed, with obvious diplomatic repercussions," said security expert Graham Cluley.
"There is no way to independently verify the claim, of course. But it is a fact that Stuxnet managed to infect many computer systems outside of its intended target in Iran," Cluley added. "Indeed, the very fact that it spread out of control, was what lead to its discovery by security firms."
Earlier this year, Symantec claimed that the Stuxnet computer worm could date back further than 2010 and was more widespread than originally believed.
Symantec's report called "The Missing Link" found a build of the Stuxnet attack tool, dubbed Stuxnet 0.5, which it said dated back to 2005 and used different techniques to sabotage industrial facilities.
Chip makers including Broadcom and Renesas Electronics are putting more focus on in-car entertainment with faster processors and networks for wireless HD movies and navigation, aiming to keep drivers informed and passengers entertained.
With PC sales slipping and the mobile device market proving highly competitive, chip makers are looking for greener pastures in other sectors like in-car entertainment and information.
From Renesas comes the R-Car M2 automotive SoC (System-on-a-Chip), which has enough power to handle simultaneous high-definition navigation, video and voice-controlled browsing.
The SoC is meant for use in mid-range systems. It features two ARM Cortex A-15 cores running at up to 1.5GHz and Renesas' own SH-4A processor plus the PowerVR SGX544MP2 from Imagination Technologies for 3D graphics. This combination helps the M2 exceed the previous R-Car H1 with more than three times the CPU capacity and approximately six times better graphics performance.
Car makers that want to put a more advanced entertainment system in their upcoming models should go for the eight core R-Car H2 SoC, which was announced earlier this year. It is based on ARM's big.LITTLE architecture, and uses four Cortex-A15 cores and another four Cortex-A7 cores.
The H2 will be able to handle four streams of 1080p video, including Blu-Ray at 60 frames per second, according to Renesas. Mass production is scheduled for the middle of next year, while the M2 won't arrive in larger volumes until June 2015.
Broadcom on the other hand is seeking to drive better networking on the road. The company's latest line of wireless chipsets for in-car connectivity uses the fast 802.11ac Wi-Fi wireless standard, which offers enough bandwidth for multiple displays and screen resolution of up to 1080p. Use of the 5GHz band for video allows it to coexist with Bluetooth hands-free calls on 2.4GHz, according Broadcom.
Broadcom has also implemented Wi-Fi Direct and Miracast. Wi-Fi Direct lets products such as smartphones, cameras and in this case in-car computers connect to one another without joining a traditional hotspot network, while Miracast lets users stream videos and share photos between smartphones, tablets and displays.
The BCM89335 Wi-Fi and Bluetooth Smart Ready combo chip and the BCM89071 Bluetooth and Bluetooth Smart Ready chip are now shipping in small volumes.
Two computer viruses are collaborating to defeat clean-up operations. Microsoft researcher Hyun Choi has found that the pair of viruses foil removal by regularly downloading updated versions of their malware partner.
It is the first time that such a defense plan has been noticed before. Choi said that the Vobfus and Beebone viruses, were regularly found together. Vobfus was the first to arrive on a machine, he said, and used different tactics to infect victims. Vobfus could be installed via booby-trapped links on websites, travel via network links to other machines or lurk on USB drives and infect machines they are plugged into.
Once installed, Vobfus downloaded Beebone which enrolled the machine into a botnet. After this the two start to work together to regularly download new versions of each other. If Vobfus was detected and remediated, it could have downloaded an undetected Beebone which can in turn download an undetected variant of Vobfus.
Vobfus become a persistent problem since 2009 when it first appeared.
Developers are becoming increasingly interested in developing apps for Windows Phone and BlackBerry 10.
According to ABI Research, Android and iOS remain dominant platforms, with Android in the lead in the smartphone space and iOS dominating the tablet market.
However, developers are also focusing on Windows Phone and BB10. AI analyst Aapo Markkanen believes 45 million Windows Phone devices will be in use by the end of the year, along with up to 20 million BB10 devices. Redmond will also have 5.5 million Windows powered tablet by the end of the year.
Research In Motion has hinted that it will unveil two new handsets early next month to accompany the release of its BlackBerry 10 operating system.
RIM is expected to unveil the phones at an event in New York City on Wednesday and will begin promoting BlackBerry 10 to consumers the following Sunday, Feb. 3, when it will air a TV commercial during the Super Bowl.
The sporting event attracts one of the largest TV audiences of the year in America, and companies pay millions of dollars for a 30-second advertising spot, underscoring how important it is for RIM that its new BlackBerry platform will be a hit. The same commercial will also air in Canada, RIM's home country.
In announcing its publicity plans Friday, RIM also hinted at when the phones will be available to consumers. It said the TV spot "kicks off a week of worldwide launch activity for RIM's BlackBerry 10 platform, along with the first two devices to run on the new platform."
If the commercial marks the start of a weeklong buildup to the launch, that would put the North American release of the phones at roughly the start of the second week in February.
Microsoft's Windows Phone mobile operating system is slowly increasing its market share in the UK, while Apple edges closer to archival Samsung.
That's according to the latest numbers from research firm Kantar Worldpanel Comtech, which show that Microsoft's Windows Phone has increased its UK market share from 2.2 percent to 5.9 percent in the past 12 months. The mobile operating system is doing even better in countries such as Italy, where it boasts a 13.9 percent market share.
Dominic Sunnebo, global consumer insight director at Kantar Worldpanel Comtech said, "At the end of 2012 the global OS picture shows Android on top, but clearly the rate of growth it experienced over the past year is beginning to slow as easy wins from first time smartphone buyers begin to reduce.
"It has been far slower than Microsoft would have liked, but Windows Phone is now starting to gain respectable shares in a number of key European countries."
"However, its performance in the Chinese and US markets remains underwhelming. As the two largest smartphone markets in the world these remain key challenges for Microsoft to overcome during 2013."
Kantar Worldpanel Comtech has also revealed that Apple is edging closer to rival Samsung, with each firm clinging to 32 percent and 35 percent of the smartphone market, respectively. Given that Samsung had a much healthier lead this time last year, these numbers seem to suggest that Apple's iPhone 5 has sold better than rumors had indicated. However, all will be revealed during Apple's quarterly earnings call tomorrow.
Apple and Samsung could soon have a third challenger on their hands, though, as research also shows that Nokia's sales are improving in the UK smartphone market. Sales of the firm's smartphones have increased 50 percent year-on-year, putting the firm's market share at 5.2 percent.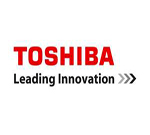 Toshiba is gearing up for to offer a 20-megapixel image sensor for digital cameras that it says will be the highest resolution of its kind.
The Tokyo-based firm said the new chips will be able to support capturing 30 frames per second at full resolution. They will also be able to shoot video at 60 frames per second at 1080P or 100 frames at 720P.
Toshiba said it will begin shipping samples of the new CMOS chips in January, with mass production to begin in August of 300,000 units monthly. Toshiba is best known in components for its NAND flash memory, which it develops with partner SanDisk, but is also a major manufacturer of LSI and other semiconductors.
Digital point-and-shoot cameras are steadily falling in price, squeezed between brutal competition among manufacturers and the increasing threat of smartphones and mobile devices. While the number of pixels a camera can capture is not always a direct measure of the overall quality of its images, it is a key selling point to consumers.
The image resolution of top-end smartphones now often meets or exceed that of digital cameras. The Nokia 808 PureView launched earlier this year has a 41-megapixel image sensor.
The Japanese manufacturer said it has increased the amount of information pixels in the new chip can store compared to its previous generation of CMOS, producing better overall images. It has also reduces the size of pixels – the new 20-megapixel version has individual pixels that measure 1.2 micrometers, down from 1.34 micrometers in its 16-megapixel product.
Apple will debut a new iPad some time in early March, and will start selling it the following week, according to reports and industry analyst expectations.
The March debut of the iPad 3, as some have called it, was first reported today by AllThingsD, the blog owned by Dow Jones, the publisher of the Wall Street Journal. Citing unnamed sources, the blog said Apple will host a launch event the first week of March, likely at the Yerba Buena Center for the Arts in San Francisco, a regular venue for the company's press announcements.
Last year, then-CEO Steve Jobs returned from medical leave to lead the launch event of the iPad 2 on March 2. Apple started selling the new tablet on March 11, 2011 via its online store.
If Apple follows the same timeline, it will probably conduct the event the week of March 5-9, and begin selling the new model the following week.
It's possible that Apple will trot out a new iPad on one of the first two days of March — Thursday, March 1 or Friday, March 2 — but Apple usually hosts events earlier in the week.
Next month's iPad introduction, if it does take place, will be the first without Jobs, who died last October at the age of 56 of complications from his long-running battle with pancreatic cancer.