Testimonials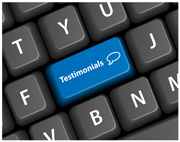 In our many years of providing service in the greater Chicagoland area, our customer base has grown.  To this day, many of our new customers come by word of mouth recommendations from our satisfied customers. Below are just a few of the many positive comments we have received.
.
"As a new business, we struggled with our initial set-up of technology. The Syber Group created an effective network  that ultimately will allow us to save money as the company grows. I regret that we did not contact The Syber Group before we made so many unnecessary purchases on our own."

Director-Manufacturing-Bolingbrook, IL
.

"I used to spend hours on the phone with technical support reps or tried to solve the computer issue on my own. Now we just call The Syber Group, the problem is fixed & we can focus on our work.  They are some of the most honest & trustworthy people in the industry, especially when important data resides on your PC that must be protected."

IT Manager-Legal Services-Chicago, IL
"The Syber Group has always dealt with me in a knowledgeable, fair and honest manner and they have demonstrated the desire and ability, to do the extra work to get things accomplished.  Even in a situation where it looked like I would have to settle for "good enough" from a carrier, The Syber Group went to work and got the issue resolved quickly and thoroughly.  I couldn't have asked for more."

IT Director-General Contractor-Plainfield, IL


.
"You can't go wrong utilizing The Syber Group's services.  We are getting ready to sign another agreement with them to audit our phone bills and implement the last leg of our VoIP solution, least cost routing (along with SIP trunking).  This project alone will save us over $10,000 per month in long distance charges.  We are looking forward to working with them again.  Mike is the first guy I will call when we have a question about technology, how to use technology to be more productive/efficient, or if I just have a general question on the best way to do something.  He is a true asset."
IT Director-Transportation Logistics-Morris, IL

"I have nothing to say but good things about these folks.  They are one of the VERY FEW vendors I have dealt with in my many years in the IT field that leave me (and they have proven it, as well) with the feeling of someone actually caring about their client."
CIO-Engineering-Oak Brook, IL

"Having a reliable IT partner allows us to not worry about our network, whether we're in the office or thousands of miles away. We trust 

The Syber Group

as our strategic IT partner; a voice of reason as we grow and expand, and someone we can count on when issues arise."

President-Management Consulting-Chicago, IL


.
"The Syber Group installed, setup and configured our VoIP system in both of our offices.  Moving to VoIP has made communication between our offices easier in that we no longer have to dial out & can simply transfer calls or dial extensions.  We are happy with their services & would most definitely use them again.  We have recommended them already to several affiliates."
IT Manager-Health Care Services-Chicago, IL

"The Syber Group has always excelled in a very professional, dedicated and timely manner.  Their expertise and knowledge in the information technology arena lead to not only completing our projects successfully but stepping above and beyond my expectations. I would most definitely utilize their services again and recommend them hands down."
Network Manager-Medical Services-Evanston, IL

"The Syber Group has impressed our company with their efficient, professional approach to any IT related challenge we encounter.  The consultants always have an effective, cost-efficient solution that fits our budget.  Furthermore, they stay engaged in projects until they are completed to make sure it's done right.  It is a relief to have a firm you can trust and rely on from start to finish."
IT Manager-Electronics Manufacturer-Joliet, IL