Server Management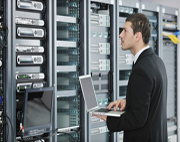 Your servers are without a doubt one of the Mission Critical components for maintaining the success of your business!  Even small problems can adversely affect your business and bring it to a virtual standstill. As your IT partner you can count on us to diligently maintain your server environment and resolve problems quickly. The Syber Group's vigilance allows us to react and rapidly fix problems so you can continue working without missing a beat.
In today's technology-intensive world increased server count is a necessary requirement for organizations of all sizes and the trend is likely to continue accelerating. The proliferation of servers is driven by many factors, including:
Mission-Critical IT applications: As more IT applications become mission critical to a business, more servers are needed for redundancy and for piloting new systems prior to introduction them into production. Organizations that demand 100% uptime for vital applications have no realistic alternative but to utilize fault-tolerant solutions that require multiple servers and utilize server clustering and server load balancing.
More applications, more servers: Companies are seeing quick return on investment from leveraging existing IT network infrastructure by deploying new classes of server applications that increase collaboration, information sharing, and productivity through automated work flow.
Segmentation and isolation of applications: Many organizations, including relatively small businesses, have learned through experience that hosting multiple applications on a single server is prone to problems, including reduced application stability, unforeseen software incompatibilities, and security patches or bug fixes for one application adversely affecting other applications.
Mixed platform environments: More organizations are embracing a mixed platform strategy with open source applications that often run only under Linux, and thus can't be hosted on existing Windows server infrastructure.

Problems with Supporting Multiple Servers

The proliferation of servers has a number of significant downsides affecting IT budgets, network administration and support, system availability, and management distraction. Problems associated with multiple servers include:
Capital costs for more servers: There are significant capital costs for acquiring new servers, along with the building out of the physical infrastructure to house, power, and cool extra equipment. The addition of a single server can trigger the need for a major upgrade to a data center or computer room to accommodate increased capacity.
Setup costs for servers: Costs for setting up and configuring each server must be factored in on top of the capital outlay for equipment.
Linear increase in IT management costs: Unless innovative approaches are utilized in setting up and managing more servers, each new server comes with significant ongoing IT management overhead leading to a linear increase in monthly IT support costs. Even mundane IT tasks such as installing patching can become problematic.
Inability to standardize server platforms: The rapid evolution of server hardware makes it practically impossible to standardize on any particular brand and model of server platform. Equipment may be bought over a 2-3 year timeframe, but individual models quickly become obsolete and unavailable for purchase.
Server upgrades become daunting: As existing server hardware reaches its end of useful lifetime, the task of upgrading servers becomes a labor-intensive and technically risky endeavor. In most cases the existing operating system configurations can't be moved directly to new hardware, and the environments must be re-created from scratch.
Asset management headaches: IT asset management becomes more time consuming for tasks such as documenting and maintaining service agreements in environments where servers are deployed at different times with different contract expiration dates.

Server Management Technology and Solutions

One of the most exciting new ways to help manage the growth of servers is virtual server technology, which allows multiple virtual servers to run on a single physical server. For all intents and purposes, virtual servers are functionally identical to having separate dedicated physical servers. Virtualization has the obvious advantage of saving hardware costs, since a single physical machine can take the place of multiple systems without the costs associated with purchasing and provisioning additional server equipment. But hardware consolidation is only one of the benefits of deploying virtual servers. Using virtual server technology, businesses can easily achieve server segmentation and isolation, and can enhance the manageability, fault-tolerance, and recoverability of line-of-business servers.
Other important server management technologies for which The Syber Group can provide consulting expertise include network monitoring software, Windows Server Update Services, and remote server management cards.
Follow these links to find out more about virtual server and server management technology and products, the advantages virtual servers can bring to your business, and how The Syber Group's consultants can help you create solutions for all aspects of server management.
Call us today at 855-568-TSTG (8784) or email info@TheSyberGroup.com for a free consultation