Email and Messaging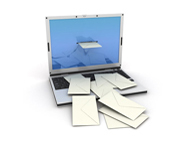 The Syber Group's consultants have vast years of experience designing, installing, and supporting email solutions for businesses. The Syber Group offers affordable MS Exchange consulting and support services to ensure that your email system features:
.
.
Security and virus protection
Fault tolerance and disaster recovery capability
Easy access for remote and mobile users
Time-saving management tools
Instant Messaging support with Microsoft Live Communications Server
Universal inboxes with voicemail and fax support
.
In addition, The Syber Group email help and support services can help you plan and implement migrations from legacy email systems or outdated email software to the latest messaging technology. The Syber Group also offers network monitoring to keep your email system up and running.
Email Security and Virus Protection

Email is the most common target for malicious hackers and computer viruses. The Syber Group has extensive experience designing and implementing secure Exchange-based email systems featuring real-time virus protection for incoming and outgoing mail. The Syber Group's comprehensive security audits can check your system's vulnerability, and The Syber Group can help you quickly clean up the damage resulting from hacker and virus attacks.
Fault Tolerant Email

For mission-critical email solutions, The Syber Group can assist you in building a fault-tolerant email architecture to protect your system from single-point breakdowns. The Syber Group can define procedures that will allow you to recover quickly even from catastrophic failure, and The Syber Group can help you deploy the latest Microsoft server technology to give your email system 24×7 availability.
Remote and Mobile Email Access

The Syber Group's experts can configure and maintain Microsoft Exchange Servers and Outlook clients so that corporate email and collaborative information can be securely accessed by remote offices, telecommuters, and mobile workers. The Syber Group can integrate servers, Windows XP, Windows Vista, and Windows 7 desktop PCs and notebooks, Pocket PCs, and smartphones to create a robust virtual email network easily accessible by authorized users anytime, anywhere. The Syber Group's consultants can help you plan, deploy, manage, and troubleshoot BlackBerry Enterprise Server (BES) so that it operates seamlessly with Microsoft Exchange Server.
Email Migration Services

The Syber Group can help you migrate to Microsoft Exchange Server 2010 or Exchange 2007 from an ISP-based or POP3 Email System in order to frees users from dependence on a specific desktop or notebook computer, reduce vulnerability to hardware failure or virus attacks, and allow both on-line and off-line email, automatic backup, and sophisticated sharing and collaboration. If you are moving from a UNIX environment to a Windows network, The Syber Group can provide UNIX messaging to Exchange migration help.
Email Management Tools

Sophisticated email management tools are available from Microsoft and third-party vendors to simplify important tasks such as distinguishing high and low priority email, eliminating spam, adding or deleting users, installing service upgrades, and monitoring performance. The Syber Group can help you identify and configure management tools suited to your business so you can maximize the usefulness of your email system.
Email and Telephony Integration

The Syber Group can help you turn your Microsoft Outlook clients into "universal inboxes" that can send and receive email, voice mail, faxes, and even wireless paging messages. The Syber Group has years of experience installing, supporting, and using telecommunications solutions that enhance productivity by concentrating your most important business communications into a powerful, one-stop inbox.
Ready to Get Started?
When you're looking for an outstanding messaging team, look no further.  Call us today at 855-568-TSTG (8784) or email info@TheSyberGroup.com for a free consultation.