Desktop Services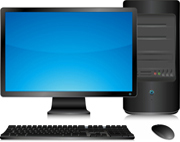 The Syber Group offers a broad range of affordable services to help your company install, integrate, troubleshoot, and manage desktop PCs and laptops powered by Windows, Apple OS X, or popular versions of Linux. The Syber Group can provide assistance for single computers or laptops or help you to plan and carry out a company-wide rollout of new or updated operating system software and business applications. The Syber Group can also supply engineers and technicians to help your company minimize business disruption while moving to a new site or merging multiple sites.
Windows 8 Migration and Support
The Syber Group's Microsoft certified consultants can help you move efficiently to Windows 8 from earlier desktop operating systems such as Windows XP, Windows Vista and Windows 7. The Syber Group can verify application and driver compatibility and check the performance and stability of Windows 8 running your production workloads within your network infrastructure. The Syber Group can also help you to develop the business case for upgrading to migration that minimizes service disruption, and can also help you automate the deployment and management of Windows 8 desktops. Designing Desktops and Delivering OS migrations are two of our core competencies.
Our process:
Readiness Assessments
Utilizing your current systems management solution and our assessment tools, The Syber Group will evaluate your environment to assess readiness for a deployment to Windows 8. Our readiness assessment covers:
Hardware inventory and compatibility analysis
Software inventory
Software compatibility testing
Readiness of current application packaging environment
User data storage concerns
Backend infrastructure readiness

Desktop Design
Many people look at Windows 8 and see the new 3-D interface. But the OS offers businesses more than just a pretty face. There are significant enhancements that include hard drive encryption, improved user control as well as a comprehensive security center.
The Windows 8 desktop design is what matters most to users. Applications must function properly while still leveraging the rich new feature set of Windows 8. Our engineers will analyze your current and future desktop requirements, and provide a tested design that can be easily deployed to your organization.
Windows 8 Pilot Programs
Are you ready to deploy Windows 8 to a pilot group of users? Our team will work alongside you to assess environmental readiness, design a desktop image, plan and implement a deployment strategy, and support you and your user's day two. This is absolutely the fastest way to get Windows 8 into your environment and have the foundation you need for a full production deployment.
Upgrading Desktops with 64-bit Applications and Operating Systems
The Syber Group's 64-bit computing experts can help you evaluate the advantages, costs, and technical risks associated with migrating to 64-bit desktop operating systems and applications. The Syber Group's Microsoft certified consultants can also help you design, document, and carry out a company-wide migration to 64-bit desktop software operating systems and business applications. As part of the 64-bit upgrade process, The Syber Group can help you build a 64-bit pilot environment to verify support for all of the important 32-bit applications you intend to retain as well as the latest 64-bit versions of applications you wish to install. If adopting Windows 8 is part of your 64-bit upgrade plan, The Syber Group can assist you to determine which computers and applications can or should be retained, and outline an upgrade procedure that is the least disruptive to your network operations.
Desktop Deployment and Management Automation

The Syber Group's desktop management professionals can help you automate workstation deployment and management so that your desktop PCs stay consistent, up-to-date, and secure. The Syber Group's engineers have extensive experience providing small businesses Microsoft SMS Server consulting. We streamline desktop administration, improve security, and boost productivity by making sure that all patches and updates are installed, police licensing compliance, and monitor patterns of application usage to enable a more efficient purchasing plan. In addition, The Syber Group can help you to execute a non-disruptive migration to System Center Configuration Manager from Systems Management Server 2003 for more comprehensive management automation and can help you to upgrade to Microsoft Windows Server 2008.
The Syber Technology Group offers complete Desktop services for your business.
Call us today 855-568-TSTG (8784) or email info@TheSyberGroup.com to schedule a meeting with our team!